Welcome
to ViVoLab website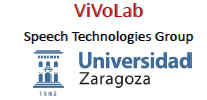 ViVoLab, Voice Input Voice Output Laboratory belongs to the Aragon Institute for Engineering Research (I3A), being an active Lab inside the Information and Communication Technologies section of the Institute.
The Aragón Institute for Engineering Research (I3A) is a university institute at the University of Zaragoza. Its goal is to become an international reference in its respective research areas and to provide high quality service to national and international companies.........
---
ViVoLab is a research laboratory on Speech Technologies. The primary goal of the lab is to become a national and international reference in the area of speech description on adverse acoustic enviroments, which includes among others:
| | |
| --- | --- |
| | Audio Segmentation |
| | Speech Enhancement |
| | Acoustic Modeling |
| | Speaker Recognition and Identification |
| | Speech Recognition |
| | Large-Vocabulary Automatic Speech Recognition |
| | Real-Time Live Broadcast News Subtitling |
| | Tools for Computer-Aided Speech Therapy in Spanish Language |
| | Natural Language Processing |
| | Text-To-Speech Conversion |
| | ........... |
---
prelingua: We are proud of announce the new version of Prelingua. You can donwload from the prelingua web page

Cátedra RTVE de la Universidad de Zaragoza: HACIA LA AUTOMATIZACIÓN DE LA DOCUMENTACIÓN DE CONTENIDOS AUDIOVISUALES Y SONOROS
AMIC: Affective multimedia analytics with inclusive and natural communication.